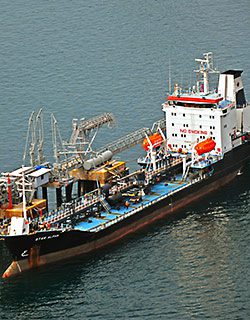 CHARTERING
International Oil Companies and International Fuel Oil Traders charter the Eagle Navigation & Trading fleet. There are a variety of charter periods for the vessels ranging from 1 to 3 years duration. Chartering is controlled out of Eagle Navigation & Trading offices in Panama.

We apply our competence and experience in commercial management and operations to bring energy safely to the world markets and ships. We aim to provide the best value services in our industry through outstanding operating efficiency – always keeping safety at the top of our agenda. We provide an integrated service where commercial, operations and fleet management work closely together to create the best customer experience.
GLOBAL PRESENCE
The aim of Eagle Navigation & Trading is to expand its presence and offer a complete Worldwide Service, with offices in the Major Shipping centers of the world. With a fleet of 6 Tankers and an experienced sales team we are prepared to grow our services worldwide systematically
OFFSHORE AND HIGH SEAS BUNKERING FOR THIRD PARTIES
Eagle Navigation and Trading with its fleet of modern tankers is able to perform Bunkering Operations in Port, Offshore and in High Seas on behalf of third party charterers.
SHIP MANAGEMENT
Eagle Navigation and Trading, S.A. currently manages a fleet of 10 Tankers of 3500 to 15000 DWT. These vessels are all operation in Panama and Caribbean Ports in Coastal Operations as well as in high seas operations. ENT is always looking to expand its fleet of managed vessels.
■ PROTECTION OF ENVIROMENT AND SAFETY OF PERSONNEL
■OFF SHORE AND HIGH SEAS BUNKERING FOR THIRTH PARTIES