COMPANY PROFILE

Eagle Navigation & Trading, S.A. is a Product Tankers Company based in the Republic of Panama, dedicated to the service of transporting bunkers from bunker suppliers from shore to ships that visit Panama including transportation of Heavy Fuel Oil, Marine Diesel Oil, Marine Gas Oil and others. Our capabilities also permit us to carry out international voyages for transport of petroleum products.
Eagle Navigation & Trading meets all IMO regulations for the service that we are permitted to perform, including the double hull requirements for vessels and the application of the International Safety Management code (ISM), the Tanker Management and Self Assessment code and the International Ship & Port Facility Security Code. Eagle Navigation & Trading has a fleet comprised of 100% Classification under IACS and strives to maintain an average age of under 15 years of age on its fleet.
Eagle Navigation & Trading principal expertise lies in providing quality transportation services throughout the Caribbean Basin. We are capable of transporting, fuel, diesel, mogas as well as other products as well to and from Major Terminals.
COVERAGE
Eagle Navigation & Trading seeks to transport bunkers on its vessels that will be involved in coastal bunkering operations in ports around the world as well as International Voyages.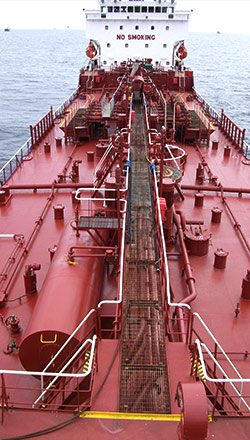 MISSION
Eagle Navigation & Trading is a company founded in 2014 to meet the growing demand in quality bunker transporters that meet the latest IMO regulations regarding protection of the environment through double hull vessels, compliance with the codes, training of its staff to the highest standards and adhering to strict internal procedures that surpass industry standards. Our mission is to fulfil our clients' expectations providing an honest, professional and the highest quality services, being the leading provider of transportation of bunkers and petroleum products in the globe. The Company is committed to providing world-class Ship Management services that meet or exceed safety, environmental and customer requirements and to conduct its operations in a manner that protects human health, the environment, property as well as to assess the risk and establish safeguards with the aim of ensuring flawless and risk-free operation.
VISION
Our vision is to be the preferred petroleum products transporter for all the clients who require these services. To be a leader in the shipping industry, delivering the best services to our customers, and ensuring efficient transportation with the highest applicable health, safety, and environmental standards. The Company aims to achieve the goals of: ZERO accidents, ZERO oil spills to the sea, ZERO loss to process, ZERO lapses in security, Continual improvement.

OUR COMMITMENT
Rewarding work environment, Long-term goals, Ethical and environmental, Flexible, Attentive to customers' needs, Immediate response, Quality Service,Safe and timely delivery, Integrated Services, Full service, Learning organization.
■ PROTECTION OF ENVIROMENT AND SAFETY OF PERSONNEL
■OFF SHORE AND HIGH SEAS BUNKERING FOR THIRTH PARTIES